Filter Press Cloths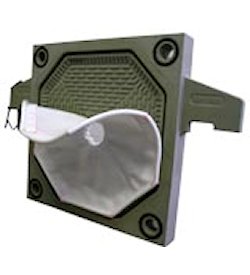 Whether you have gasketed filter press cloths, non-gasketed or plate and frame (drape-over cloths), Lamports regularly manufactures replacement filter cloths for any filter press.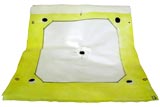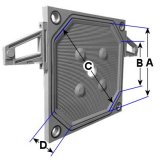 Filter press cloths are available in a variety of materials form the standard oxford weave to the quick-release, mono-multifilament.  The fabric that is most commonly used is polypropylene.  However, polyester is also available.
For non-gasketed cloths, we can provide latex edging which provides a better seal and therefore, less leakage when the press is in operation.
We have the capability to manufacturer replacement cloths for all filter press and plate manufacturers.  To determine which plate is in your press, simply download the filter press drawing and submit the requested dimensions.  Our staff can then determine which pattern matches your requirements.
We specialize in replacement
Filter Press Cloths for:
ACS, Met-Chem, Shriver, JWI, Parkson, Sperry, and Lanco.
Available in a variety of materials from the standard oxford weave to the quick release mono-multifilament. We can also provide latex edging for a better seal on the non-gasketed filter cloths.
Recessed gasketed cloths
Non-gasketed cloths
Plate and frame cloths
Articles of Interest: