Centrifuge Bags/Liners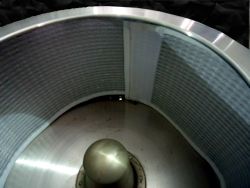 Centrifuge bags are most often used for clarification of liquid containing high concentrations of solids or removing solids from liquids.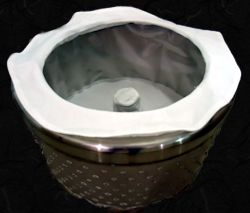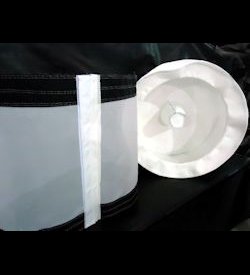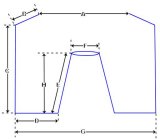 Centrifuge bags are known for their ability to provide low moisture in discharged solids.  Since centrifuges come in a variety of sizes, they can handle small to large loads.
We offer a wide range of pore sizes and permeabilities  as well as options ranging from lifting loops, flanges and hubs.
Custom Stitching:
Custom stitching on all of our products minimizes product loss through seam holes.
As a specialty cut and sew house, Lamports has the capability to manufacture virtually any type of filter or centrifuge bag.  We stock a wide variety of quality fabrics to meet your filtration needs from fine to coarse filtration. Centrifuge bags come in many shapes and sizes. Our expert sewing department has vast experience in adapting and customizing to meet your needs. Each item is made to order. When necessary, we collaborate and create the bag from start to finish. Or, we can simply follow any drawing that is supplied by the customer.
Centrifuge bags can have a center hub, a flange, a support liner or simply a liner itself. Whatever your needs, we can meet them in a timely fashion. We pride ourselves on our capability to accommodate both small and large runs.
An individual file is created for each customer enabling us to keep any drawings on file for future orders.
Our centrifuge bags are used in a variety of applications including chemical processing, fertilizers, food processing and others. Because we stock a wide variety of fabrics we can provide cost effective solutions to your filtration needs.